In last week's email I talked about how to create your first free product, an ebook. This week I'd like to continue along the same vein in talking about building a brand and what moves you.
You need to identify your message, your lane, and your audience. These components are the heart of your business, and that's why it's so important not to skip over these thought exercises. Let's jump into a little about each.

Identify Your Overall Message
Start by defining why you do what you do, how you do it, and what it is that you do—in that order (popularly known as the Golden Circle concept). Put priority on your "why" especially because people follow and buy from brands that align with their own core values and beliefs.
Identifying Your Message if You are Selling Products or Services
Think about how you can educate about things that relate to your product/service. Explore the background knowledge someone might need to get the most out of your product or service.
This approach engenders brand loyalty but also helps each member of your audience self-identify as someone who will benefit from your product or service.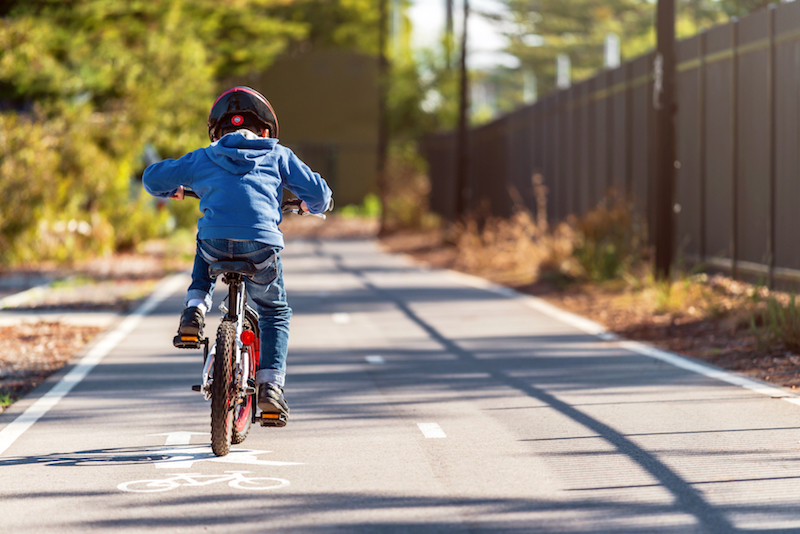 Define Your Lane (and Stay in It)
When building your brand, establishing the boundaries of what you will blog about and promote is equally as important as your central message. Think of this as "staying in your lane."
You can think of defining your lane in terms of monetization opportunities.
What types of products are consistent with your brand that you would be willing to promote?What types of products are not consistent with your brand that you will refuse to promote even if given a tempting opportunity?What types of physical or digital products might you produce (or services you might provide) that are consistent with your brand?What types of products or services would seem incongruent with your brand?
You can also think of your lane in terms of business ethics.
What are you willing to do to obtain an advantage over your competitors?More importantly, what are you not willing to do?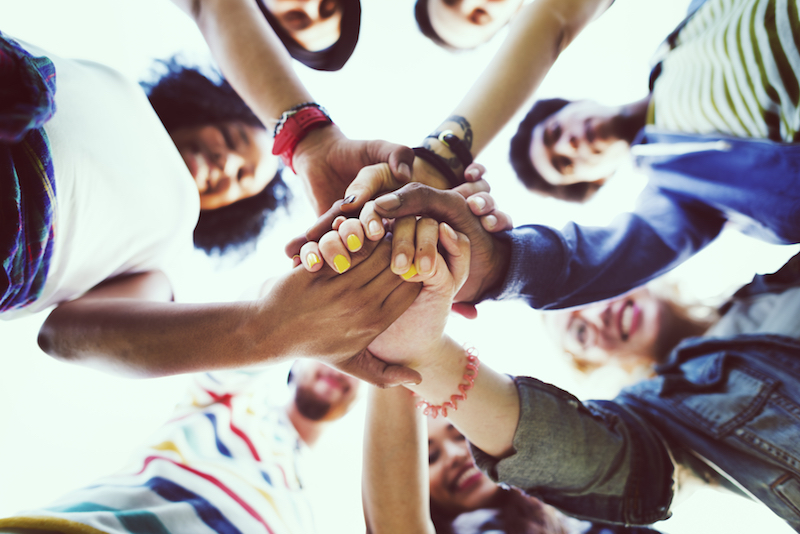 Determine Your Intended Audience's Characteristics
These characteristics could include demographics or socioeconomic status, but also things like interests, political inclination, location, educational level, careers, hobbies, health status, goals…and chances are that these characteristics will mostly describe you as well! That's because people tend to relate best to someone they feel like they have something in common with.
Defining your intended audience helps you determine the look and voice of the content you create, which social media platforms to focus on, and how to make strategic decisions to reach and relate to the right people.
Know Who Your Audience Isn't
It's important to know who is not your intended audience, so that when trolls show up (they will), you don't waste any mental energy trying to make them happy.
📝 Blog Post
Identifying your message, your lane, and your audience will not only help you move forward with purpose, but will make it easier to write compelling email subject lines and blog post titles. That's because you can always return to your core mission if you get stuck.
Learn more about how to create compelling subject lines in our blog post.
Read it here:
https://bizbudding.com/write-compelling-email-subject-lines/
🎙️ Podcast
Authenticity is key to being successful as an entrepreneur. Always fall back to your concrete beliefs. Ask: What am I doing this for, what is my purpose, what service do I provide people? Listen to this podcast where I interview Lindsey Riel on how being your authentic self plays a role in building a business and team.
Listen now:
https://bizbudding.com/be-your-authentic-self/
💡Quick Tip
To gain more clarity into your business goals and how your authentic self supports them, download and complete this authenticity worksheet.
Get it:
https://community.bizbudding.com/c/bonus-content/authenticity-worksheet
💰Bonus
Use this brand questionnaire to discover more about your mission and vision, your audience, and your competitors.
Get it:
https://community.bizbudding.com/c/bonus-content/brand-questionnaire
I've been digging into assembling the live webinars and training content for Launch Camp.
One of the things I love the most about creating the Launch Camp program and content is that it reminds me of all the things we should do, but often haven't or don't. Hence, today's bonus (keep reading).
But first, what kind of product should you create for your business?
Does the answer matter if your business is a service business? Or a product business?
My answer is no, it doesn't matter. Your first product should be a free ebook. Yup, ebooks aren't dead. They're still quite popular in both free and paid versions.
What Is Your Product?
Some people start blogging not because they have a defined message, but rather because they have a defined product or service. If you fall under this banner, your job here is done (mostly anyway, keep reading for a few additional things to think about).
If you're starting with a defined message and no product, it's time to start thinking about the future!
While you can make extremely good money as an influencer, recommending your favorite brands and products to your audience, having your own premium product to sell is not only an excellent monetization strategy but also can help define your brand to your audience!
The First Product Should Be a Free Product
The first product (even if you're starting a blog in order to promote your product or service) should be a free product. This could be a free ebook, member's area, Facebook group, podcast, or webinar.
They're all great tools for building your audience, converting page views to email addresses, and…establishing your brand!
This is your opportunity to offer a higher-value product (again, for free) that helps communicate your message, but even more importantly, communicates your brand and starts to build brand recognition and loyalty!
Share Knowledge to Gain Customer & Prospect Confidence
My buddy Vince was writing out plans for his legal marketing business. He wrote down common questions that his prospects asked. He wrote answers to those questions. He added examples of best practices and shared industry experience.
By the end of the process, Vince created an amazing ebook. It was filled with valuable content and insights that his prospects benefited from. It answered their questions. It gave them confidence in Vince and his services.
It turned out to be one of the best ebooks I've seen.
Turn Your Blog Posts into a Free Guide
We've talked a lot about content strategy and creating posts that answer customer and prospect questions about how to get started with your products and services.
It's a great way to share expertise, provide guidance, and give your readers the tools they need to make informed decisions.
Often though, your prospects don't have the time to read all that great content in one sitting online. Turn that content into a free ebook that they can read at their convenience!
(Do you have a "to read" folder of PDFs on your computer? I do, and it's where content that I download gets stored until I have time to read it.)
Use a Free Product to Make Money Online
There are many ways to make money online. I'm super excited to review different options and have open discussions with you in Launch Camp.
Launch Camp will be organized into learning, implementation, and open discussion sessions.
Until then, you can get a head start on making money online by checking out some of the ideas in our free guide on How to Start Blogging.
Download Guide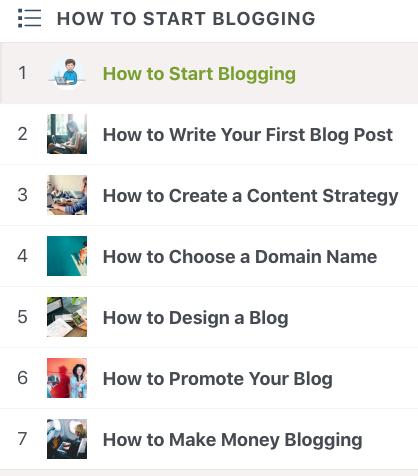 📝 Blog Post

If you've already started your blog and are ready to move to product development, check out our post on monetization.
https://bizbudding.com/how-to-make-money-blogging/
💡Quick Tip
Put together a step-by-step plan to launch your website/blog. Take your time while setting initial goals. There are a million reasons to procrastinate. Start small and develop your craft.
Here are some suggestions:
Work evenings and weekends
Find something that nurtures work-life balance (rather than inhibiting it)
Build a positive mindset
Do workshops for free to gain the trust of your audienceIterate on your products after starting with a minimum viable product offeringHone in on what makes you excited and what you're great at
Consider outsourcing non-essential components such as bookkeeping and social media management
Set a growth plan
Get feedback from both blogging experts and non-bloggers
Stick to the brand identity you put together for yourself
Be flexible
Scale-up as needed
Scale-down as needed
Plan ahead
Stay organized
Be aware of seasonality
Budget and plan for 3 months of expenses (unexpected emergencies happen)
💰Bonus
Explore this free guide to take a deep dive into how to start blogging to make money.
Download now
.
Blocks and the New WordPress Direction


Blocks are here to stay. And they are awesome.
At first, I found the switch from the Classic Editor to the Block editor quite cumbersome, and I resisted.
But as I pushed forward, I learned how to better use blocks to create amazing "templates" and "parts" for our website.
And of course, we share all those great features within the Mai Engine (Mai Theme 2.0) updates we release.
One Cool Block Pattern that Provides Ecommerce Confidence
We are creating and structuring the content for Launch Camp and have organized it into three segments: learning, implementing, and open discussion.
One of the sections in Launch Camp focuses on best practices for ecommerce and how to increase conversions and sales. In Launch Camp, we dive deep into ecommerce conversion rates and why it's important to measure them for your organic, direct, affiliate, and ad-driven segments separately.
As I was writing the outline and content though, I realized we weren't following our own guidelines.
We needed to make a change to our website. And again I realized blocks were cool and here to stay. This is why...
We created an Ecommerce Cart Confidence block pattern. This block pattern displays ecommerce trust signals at the top of the shopping cart.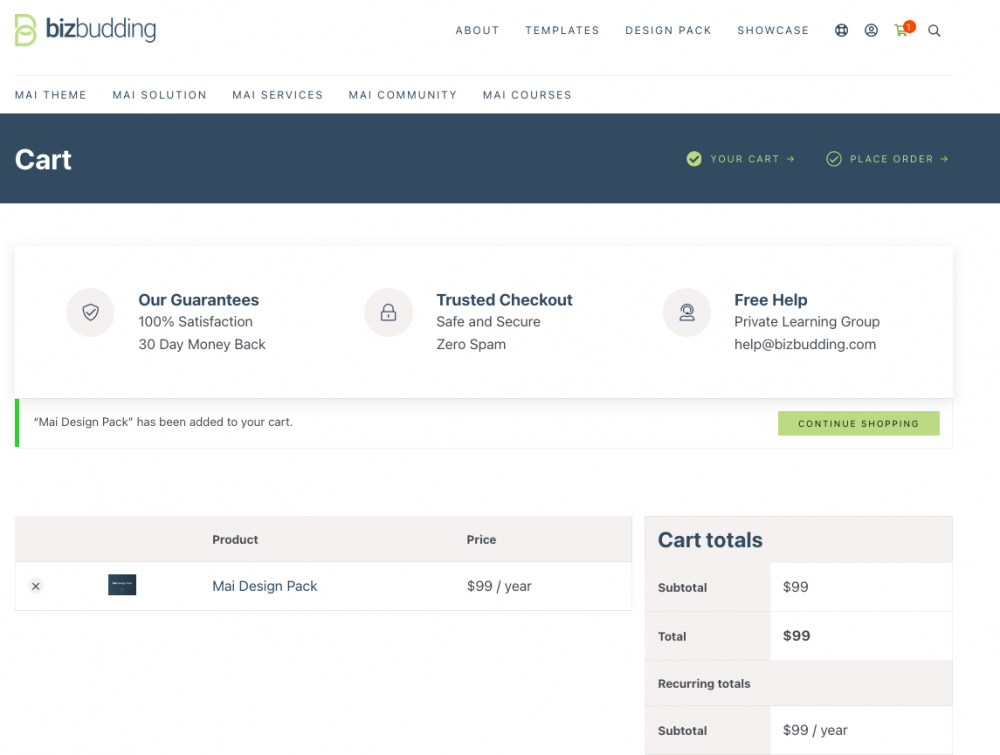 Within one week of making this change, we saw a 9% increase in our ecommerce conversion rate segmented for both organic traffic and affiliate traffic.
That means fewer abandoned carts and increased sales. It also means increased revenue for our affiliates when they promote our products.
We want to share this block pattern with you so you can implement it on your own WooCommerce website.
Mai Theme Block Pattern Library
We receive quite a few support requests about how to use block patterns that we've created for our custom website projects. As a result, we will be releasing (in the near future)
a way to share these block patterns with Mai Theme 2.0 customers.
Stay tuned as we get ready to bring Mai Theme 2.0 customers a library of really cool block patterns that you can use with Mai Theme.
In the meantime, below is a link to the code for the Ecommerce Cart Confidence block pattern Mike and Samantha created. Simply copy and paste this code into your cart page.
Be sure your website is running the latest version of Mai Theme (version 2).
Then copy this snippet into a brand new paragraph block.
Be sure to update the content to reflect what you offer.
Copy all the code here:
https://d.pr/n/faHo5y
.
Edit your Cart page.Paste all the code into a new Paragraph block.Update the page.
(For an instructional video, jump down to the Bonus section of this email.)
📝 Blog Post

If blocks are new to you or if you are still unsure if making the switch to Gutenberg is worth it, check out this post to learn more about what the WordPress block editor has to offer. See the benefits, flexibility, and customizability you'll gain with our examples, and learn how Mai Theme leverages the block editor, custom block types, and more to help you create a stunning, professional, and unique website with ease.
Read it:
https://bizbudding.com/top-reasons-to-switch-to-the-wordpress-block-editor-gutenberg/
💡Quick Tip
Some other ways to improve conversions include using testimonials and ratings (social proof) and making your cart and pricing very visible and transparent. Here are some helpful docs & tutorials:
Mai Cart Total [mai_cart_total] Shortcode
: This shortcode allows you to display the WooCommerce cart total anywhere you'd like.
Mai Icon [mai_icon] Shortcode
: To show the cart total in a menu item, check out this help doc with the cart_total parameter.
Menu Icons
: Some examples of how to show a shopping cart icon as your menu item
Mai Rating [mai_rating] Shortcode
: Add a star rating anywhere in your content. Works great in the Custom Content field in Mai Post Grid or the Customizer, or in the description of Mai Favorites.
Mai Testimonials
(for v2 users): Mai Theme includes our Mai Testimonials plugin, which is displayed through the Mai Post Grid block for powerful and dynamic testimonials layouts. The Grid block can be used to format a variety of testimonials into a grid.
💰 Bonus
Sam made a quick instructional video of how to add the Ecommerce Cart Confidence block in the Mai Blogging Community.
Watch it now:
https://community.bizbudding.com/c/mai-theme-training/how-to-insert-an-ecommerce-cart-confidence-block-pattern
We hope you enjoy our sample newsletters. Sign up to get them straight into your email box.

https://bizbudding.com/newsletter/
I want to start off by thanking everyone who shared their feedback on our survey last week. We really appreciate it! Check out the updates section below for more info in case you missed that last week.
Because a lot of people answered that they want more tips on marketing related topics, this week, we want to focus on the topics of lead generation/CTAs and landing pages. We know these are some of the first things people want to get in place after—or sometimes before—launching a website.
But it can also be tricky. There are a lot of things to consider... let's dive in deeper with the resources and tips below!
📣 Updates
In case you missed it, we shared some information about a Launch Camp we are developing and we're happy to see so many people are interested in that. More info to follow soon...stay tuned!
We also asked you let us know which topics you are most interested in, to help further guide us in our content and marketing and make sure we are sending you things that are valuable and helpful to you.
If you'd like to help us out by answering these questions,
the survey is still available here
. Thanks again.
📝 Blog Post

Not sure where to start when it comes to lead generation and CTAs? Check out this blog post for more guidance on the basics. We discuss everything from engagement, segmentation, funnels, landing pages, and more. Read it:
https://bizbudding.com/lead-generation/
💡Quick Tip
Use a landing page or welcome series to help new subscribers take the next step after signing up for your list. This is the point at which people are
most engaged
, so you definitely want to harness that energy. Don't miss out on the opportunity to create a deeper connection with your audience!

Landing Pages
After someone signs up for your list through your CTA, you can redirect them to a landing page as a way to engage with them and build trust.
You can share a message from you with your image, a selection of your best posts to help them learn more about a topic, and a download link to some type of freebie (if your CTA promises one).
Be as specific as possible about what they should do next. If they have too many choices, they simply won't make one.
Landing pages in Mai Theme 2.0 are super simple to create!
Create a regular page, then simply uncheck the page elements that you would like to hide to make it look like a landing page.
We have a video here that shows you exactly how to do this.
Welcome Series
As for a welcome series, we have an entire post dedicated to this topic. It even outlines what should go into each email with examples. Check it out here:
https://bizbudding.com/wow-new-subscribers-email-welcome-series/
Pro Tip
: Subscribe to a couple of email lists of bloggers or brands that you love. Or, even those that you don't really know yet, but fall into the same niche as you. See what their welcome sequence looks like.
What do they say, how do they say it, how many emails is it, how are the emails spaced out, what seems to be the one thing they are trying to get you to do next?
Take note of what you love (or what you don't). As long as you are not copying from them verbatim, it's totally okay to take bits and pieces that you like and rework them to make them your own.
💰 Bonus
Grab some welcome series swipe copy from the Mai Blogging Community.
Get it here
.
 Would you be interested in a 28-day Launch Camp? This private group mastermind workshop would
greatly reduce the time and cost required to (re)launch a website
.
Eliminate the hassle
of figuring out hosting, plugins and themes, developing a content plan and brand guide, and building an email list on your own. We would walk you through the steps to building a remarkable website or blog.
We have put together a solution and a 28-day workshop-style program that we know works. If you have an issue with your website, it's on us. We will fix it.
In addition, we want to make sure we are sending you
content that is relevant and helpful to you
, so we want to know what topics you are most interest in. (Don't worry, we've already narrowed it down to make it super quick and easy. 😉)
Can you take this
quick 2-question survey
to let us know your answers? Thanks in advance!
Take the Survey
We often get the question, "What size images should I upload?" when people are new to Mai Theme. When using Mai Theme you no longer have to think about image sizes. Instead, you only need to be concerned with orientation and aspect ratio.
We recommend uploading larger images in order to future-proof your website. This means uploading 2400px wide images is totally fine.
WordPress and Mai Theme automatically crop and resize your images to display them at the correct size depending on the use-case, settings, and configuration. Mai Theme won't load the full-size image since that would slow down your site. However, that full size is always available in the future, so if you change templates you always have the full-size image to build your new sizes/orientations/ratios from when you regenerate images.
This means if your blog archive or Mai Post Grid is set to display posts with Landscape image orientation, Mai Theme will automatically serve the correct size depending on your layout, how many columns, and the browser window size.
This is often known as "responsive images."
Want to learn more about aspect ratios and image orientation?
Learn more here:
https://docs.bizbudding.com/docs/images/
https://docs.bizbudding.com/docs/regenerating-images/
📝 Blog Post

Tired of your head always being chopped off in your page headers or other images? Get the real scoop on aspect ratios to keep your site looking beautiful and decapitation-free. Read it:
https://bizbudding.com/aspect-ratios-explained/
💡Quick Tip

Some great free image resources include:
Canva - for making your own graphics & resources
Unsplash - gorgeous free images powered by creatorsImage
Optim - free image compression app
Today our focus is website security.
I know someone of you are cringing in your seats just thinking about this topic, but that's why we need to talk about it. Because the more comfortable you are with something, the more in control you are (even when things are out of your control). I realize that last part sounds strange, but knowledge is power. So is strong infrastructure.
Website security is something that you should take seriously. There has been a recent resurgence in ransom-driven DDoS threats that are targeting organizations of all sizes.
If you use Mai Solution or host with us on Mai Hosting your website is already safeguarded against these threats. 🎉
A ransom DDoS attack is when a malicious party attempts to extort money by threatening with a denial-of-service attack (which is an attempt to exhaust the resources of the website or web server so legitimate users cannot receive service). DDoS attacks send junk network traffic to websites—a lot of it. It's a lot like clogging up a freeway. 🚗🚋🚙🚒💥
There's not much you can do to prevent a DDoS attack. Your hosting and network provider has to be able to absorb/handle the junk traffic.
But there are five things you can do to "harden" or "secure" WordPress. Check out our quick tip this week to find out what they are. 
📣 Updates
We want to extend a big thank you to everyone who voted on our next theme release. Your feedback is always appreciated and taken to heart.
Drum roll... 🥁 🥁 🥁
For our June theme release you picked... Newspaper Pro!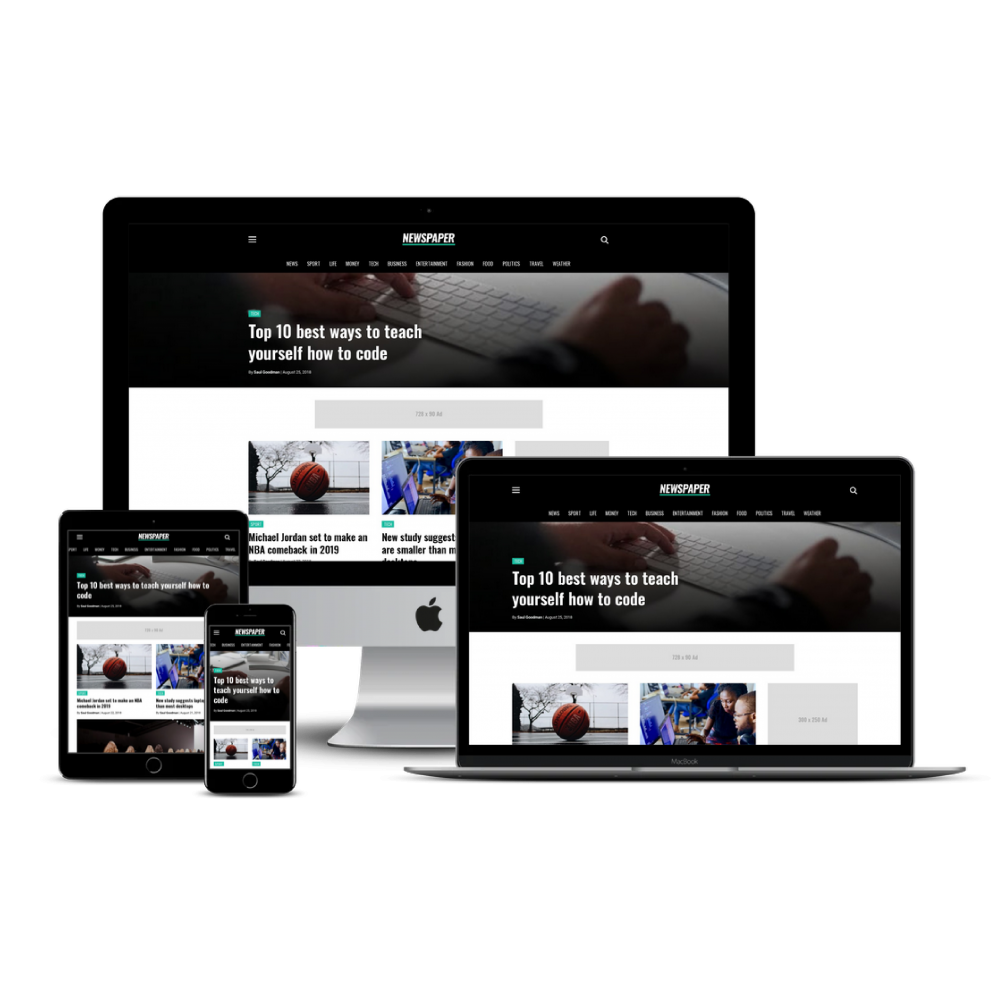 Well, that's the name of Classic theme by SEO Themes that the new v2 counterpart will be based upon. That means it'll look very similar in design, BUT it's a
totally new theme
, block-based, with tons of new and updated features/functionality just like our other v2 themes.
We're calling it
Mai Exclusive
.
If you had your heart set on another theme, don't worry, they're in the works and will be coming.
Still want to vote?
The poll is still open
, and while Mai Exclusive is set for June, you can still weigh on what theme you'd like to see after that.
Thanks again!
📝 Blog Post

Continuing on our topic of security, we wanted to share this post about hosting. Website hosting is often overlooked—yet it is one of the most important factors in protecting your investment in your domain name and your website.
Read it:
https://bizbudding.com/website-hosting/
💡Quick Tip

As promised, here are five things you can do to "harden" or "secure" your WordPress website.
Change the URL of your WordPress login page using https://wordpress.org/plugins/wps-hide-login/.
Review WordPress administrator accounts. Do you know who they are? Leverage the Editor and Author roles instead of making everyone an Administrator. 
Make sure you have backups. And that they work. Check with your hosting provider.
Consider using 2-Factor authentication when logging in to your Administrator account. (You do that with your bank account, right?!?!)
And most importantly, change your passwords FREQUENTLY and make them COMPLEX. Consider investing in a password manager like 1Password or LastPass.

💰 Bonus

So technically this is not a "bonus" because it's not in the Bonus space of our community, but I still wanted to share this. I put together a sort of mini case study on the process we went through rebuilding our site. It's a quick 1-2 minute read max.

If you have a question about building/rebuilding/rebranding/updating a website, please drop us a comment on the post. We are here to help. Read it:
https://community.bizbudding.com/c/ask-for-help/building-a-site-is-tough